PROVENT: The Proven Alternative to CPAP
Prescribe Provent Therapy – It's Treatment that Sticks.
(only available at our Theall Rd location with a Rx, ask us if you need a Doctor recommendation)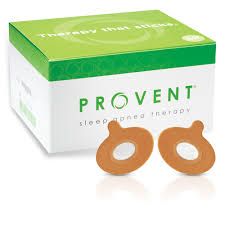 Simple and effective, Provent Sleep Apnea Therapy is a clinically proven, FDA cleared, prescription therapy for the treatment of Obstructive Sleep Apnea. Proven over more than 5,000,000 nights, Provent requires no mask or machine and is well tolerated by patients who are unsuccessful with CPAP therapy.
Obstructive Sleep Apnea (OSA) is a serious medical condition characterized by pauses in breathing, or shallow breaths, during sleep. Untreated OSA can have a negative impact on quality of life including decreased energy levels, lack of motivation, depression & daytime sleepiness. It may even lead to additional health problems like high blood pressure, heart attack, stroke & diabetes.
Quiet and hassle-free
Provent Therapy is easy to use & maintenance free. It is ideal for nightly use and convenient for travel.
Effective
In clinical studies, Provent demonstrated significant improvements across all levels of OSA severity.
Latex Free
Comfortable and breathable Provent patches are easy to apply and contain no natural rubber latex.
Ideal for Travel
Small, discreet and disposable Provent is convenient for use nightly at home and while traveling.
American Made
Provent is proudly made in the USA and is available directly to veterans through the VA Medical System.
Latex FreeCPAP & Mask-Free
Provent is the proven CPAP alternative that let's sleep therapy users unplug with no mask, no tubing and no machine!
"I've used CPAP, had surgeries and tried an oral device and none of them worked well for me. My sleep has definitely improved with Provent."
– Bill
"Doctors say it has given them a new weapon in the battle against sleep apnea, and many patients who struggled with CPAP call Provent a godsend."
- Anahad O'Connor, The New York Times
Provent is exclusively sold at our 1 Theall Road (inside WestMed) - Suite 102 - Rye, NY 10580
Monday-Friday 9:00am-5:30pm 914-848-8740
Don't forget we deliver to over 20 towns!